Our AI Software
No-code AI software built for engineers
Monolith Software is a machine learning AI platform built by engineers, for engineers. No coding or Ph.D. in statistics is required - just your engineering expertise and test data. ​​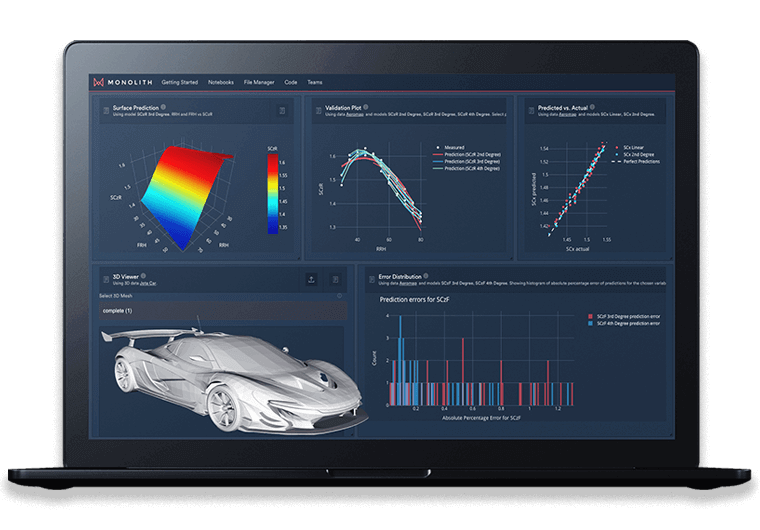 Discover our top data-driven business applications and engineering use cases for Aerospace & Defense, Automotive, and Industrial customers.
Monolith supports a diverse range of industries, engineering teams, and business requirements. If you work with any type of data; from data science, to data entry, data preparation, data management, or make data-led decisions—our AI software can help you do more with less.
Vehicle Dynamics
Use Monolith's intelligent exploration artificial intelligence tools to sort and visualise track test data, inform your engineers, and train machine learning models on manoeuvres to predict the forces on the vehicle during other manoeuvres that were not performed—saving testing time on complex tasks.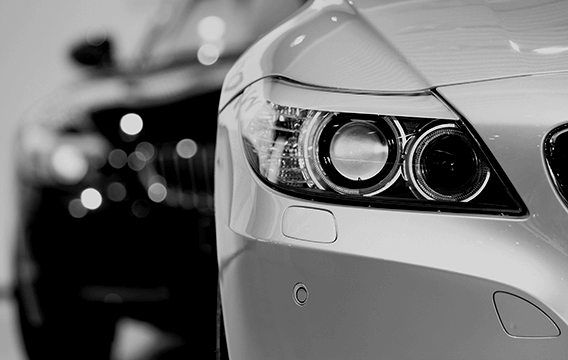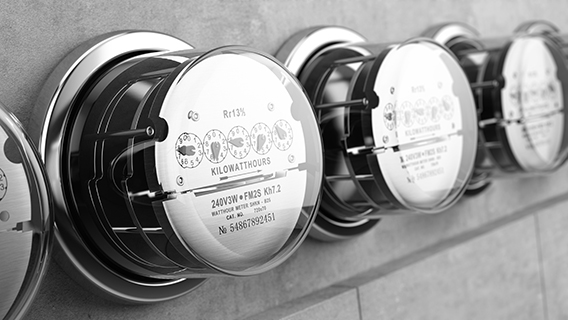 Smart Meters
Monolith's AI software instantly determines what smart meter designs give the best performance, while self-learning models learn from new data generated along the way, indicating which designs are most promising to investigate next through machine learning.
Wind Tunnel Testing
Build 3D artificial intelligence (AI) models that directly predict wind tunnel performance from a CAD design – faster and more accurately than Computational Fluid Dynamics (CFD) simulation alone.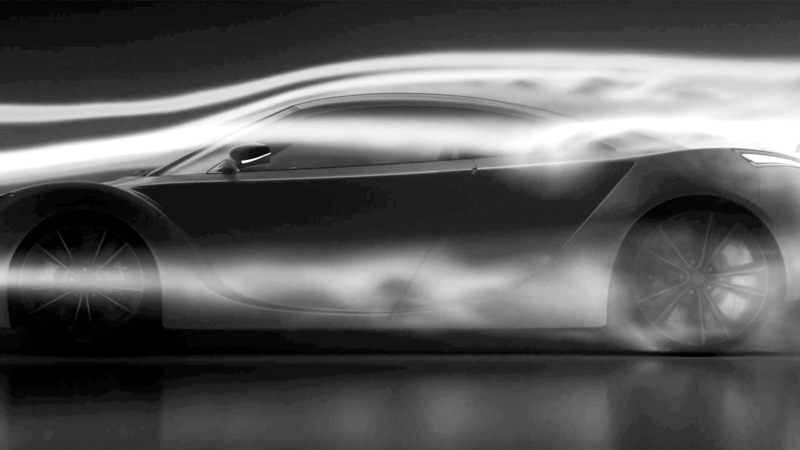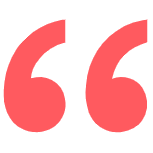 "Monolith allowed us to understand and optimize the gas meter's behaviour for all operating conditions and optimize meter accuracy under extreme conditions, allowing us to build a superior, more accurate product in a much shorter amount of time."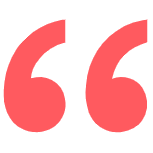 "Monolith Team understood what it means to work with genuine engineering problems in artificial intelligence: the needed flexibility and knowledge. "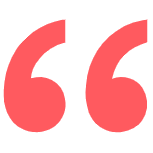 "The Monolith engineering team are unique experts in the field of solving scientific problems with machine learning. I trust them to guide our team to get the greatest ROI from AI and magnify our engineering talent and expertise. "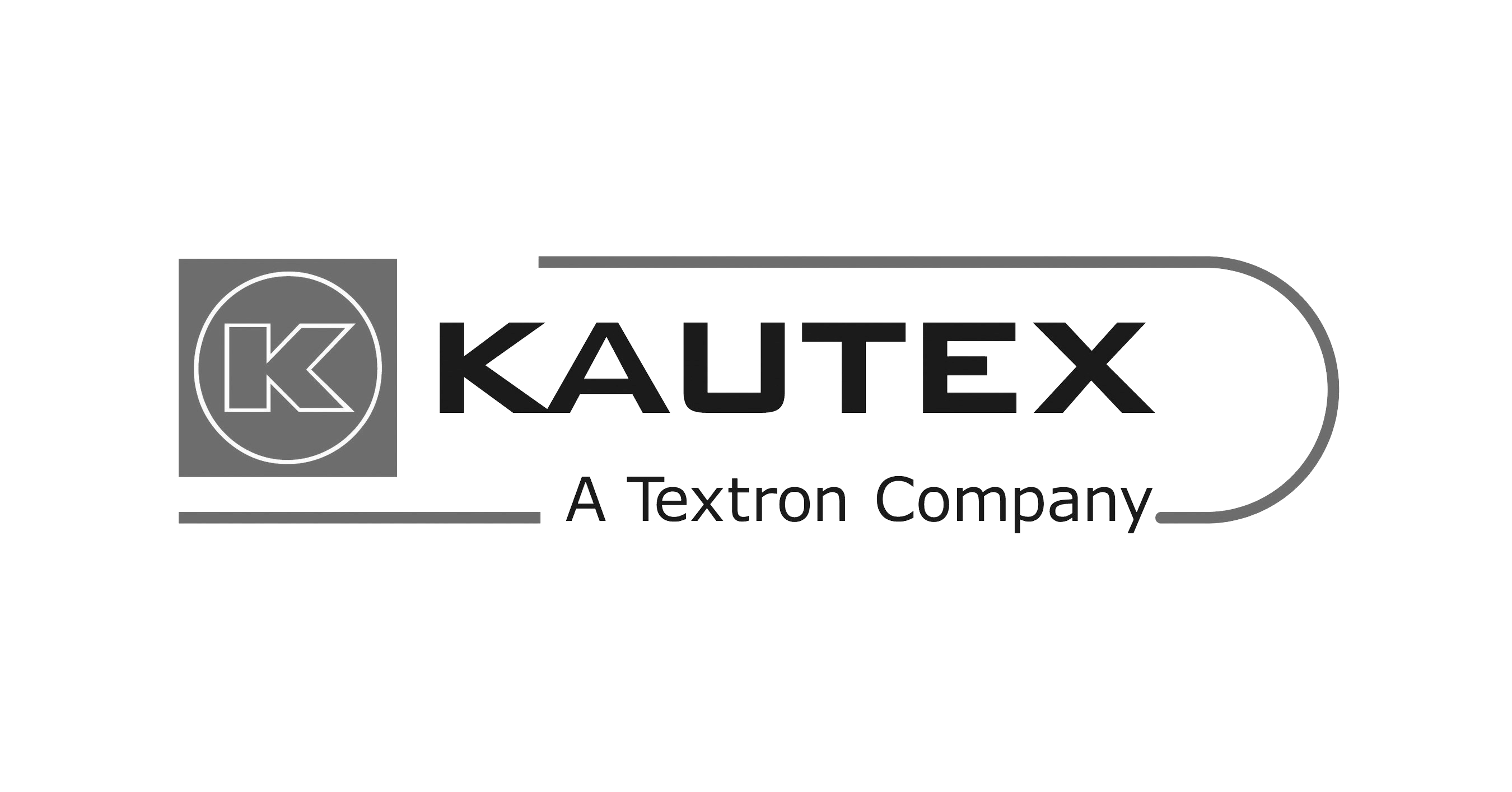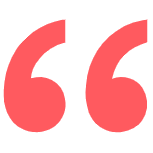 "With Monolith's machine learning method, we not only solved the challenge, we also reduced design iteration times and prototyping and testing costs. We are thrilled with the results, and we are confident we have found a way to improve future design solutions."
Get Started
Get Started With Monolith, Your Trusted AI Software Partner
Learn how to begin AI adoption in your organization and understand the technical requirements for the applicability of artificial intelligence software to your organization.
Find out how Monolith supports its customers, and how you can be sure you will succeed with artificial intelligence (AI) to deliver better quality products in half the time.​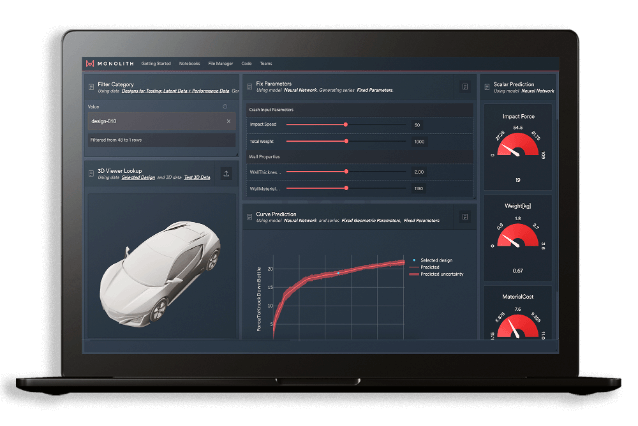 News
Monolith AI Software Accelerates Development of World-Class Vehicles With Data-Driven Modelling
Learn how BMW Group engineers are using our pioneering artificial intelligence software and automation tools technology to solve previously impossible physics challenges from aerodynamics to crash tests.
Case Study
Jota Sport Cuts Car Setup Time by 50% With Monolith AI Software
Since teaming up with Monolith's artificial intelligence software, Jota engineers can better understand and predict the aerodynamics of their cars by building self-learning models. As a result, they have reduced the number of simulations and tests by 50%, cut car time-to-setup in half, and achieved a 66% reduction in overall costs.
News Center
Find out how we empower engineers to use AI Software
Ready to get started with AI?