Here at Monolith AI, our international team is constantly growing, and we want to introduce you to the people behind our AIE platform! In this first installment of our 'My life at Monolith' blog series, we introduce Chloe Mills. Chloe is a Business Development Representative originally from Hertfordshire, who has been an integral part of the Sales team for over 2 years. In this interview, we find out more about Chloe's professional life at Monolith!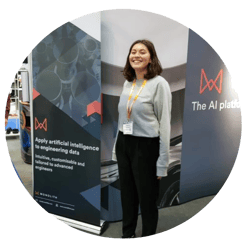 What are your responsibilities as a Business Development Representative at Monolith AI?
"My role mainly consists of talking and explaining Monolith AI's solution to customers, and listening to their pain points and problems to understand if our software can help them in their process. Additionally, I regularly collaborate with other teams such as marketing and tech to present customer feedback so that we can align on messaging and understand our users and prospect customers. Moreover, I work on many other exciting projects and bits and bobs, such as working on strategy, attending events, and writing blog posts or newsletters."
How would you describe to a 'non-techie' what you do?
"In layman terms, I help our customers understand Machine Learning so that they can benefit from it in their day-to-day work life."
What are some of the challenges you face daily and how do you solve them?
"What can be challenging at times is ensuring that customers understand the true capabilities of Machine Learning. How I overcome this is by showing our customers how we have democratized ML (Machine Learning) so that any engineer can use it. Another challenge that can crop up is trying to understand some of the more complex engineering processes our customers work through. I overcome this by either asking the customer to explain further or asking one of our customer successes engineers to help me understand. In the end, our team manages to tackle the challenges that arise!"
What is your favourite part about working at Monolith?
"My favourite part about work is, of course, the team! The people at Monolith AI are great and always incredibly supportive. It is also a great environment that allows you to explore other roles within the company."
What do you like to do outside of work?
"Outside of work, I like trying new foods, exploring new places, and relaxing by reading a book."
Thank you, Chloe!
Stay tuned for more interviews from the team behind Monolith AI. Interested in learning more about us or joining our dynamic team? Check out this page.