In recognition of International Women in Engineering Day last week, we asked our Chief Marketing Officer, Rebecca Geier, to share learnings from her 30+ years as a business leader in the engineering field.
I had the distinct honor of delivering the keynote address at Arrival earlier this year for their Inspiring Women Day event, hosted at their global HQ in West London. With the theme of Inspiring Women, Inspiring Careers, I spoke following a day where Arrival team members from Engineering to IT and HR came together to learn from peers and industry leaders alike how to achieve success, overcome challenges, and learn lessons to apply in their future.
In my journey to become the best business leader, wife, and mother I can be, I have learned many lessons that I try to live by and instill in my family as well as the teams I lead. The following is an excerpt of the speech I gave, Inspiration: Five Lessons, Woman to Woman:
1. Take That Risk
I don't particularly like risk. I like adventure, but risk is different – it's filled with uncertainty and the possibility of failure, which makes me uncomfortable. The first really big risk I took as a young adult from Texas was moving to France during college, at the age of 20. I had studied French and traveled there with my family in my teens; but moving abroad, all alone, was a different story. And this was before mobile phones and WhatsApp (I'm dating myself, I know!). When I got on that plane, it would be weeks before I'd talk to my family again (long-distance calls were not in the budget), be in familiar surroundings, or speak English. I was scared…and all I had was myself to rely on.
Taking that risk turned out to be one of the most positive, life-changing events of my life. Most real challenges are – they stretch us out of our comfort zone so we have to face our fears and become more resourceful, creative, and independent. In the process, we become more confident, which leads to personal and professional growth and unimaginable opportunities.
In my case, moving to a small village in the south of the French countryside with a non-English speaking family gave me the confidence to later travel on my own to other countries, explore the world, and appreciate the differences and similarities of other people and cultures. By facing my fears to leave home and live abroad, I was more prepared as an adult and growing business leader when the call came to collaborate with my peers in other countries, lead global teams and speak at and inspire international audiences.
Never would I have imagined as an American 19-year-old from south Texas that a number of years later, I'd be assisting with a press conference in Munich, leading a media tour in China and Japan, or delivering keynote addresses to global audiences from Amsterdam to Cypress…or at Arrival, in West London.
TAKING RISKS AND FACING CHALLENGES → LEADS TO GROWTH → CREATES OPPORTUNITIES YOU'D NEVER IMAGINE
‍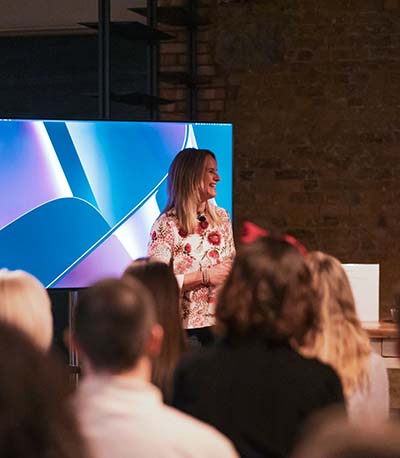 ‍
2. Expect It To Be Hard
In March 2008, I took another big risk and left my comfortable corporate job to start my own company with a friend and colleague. Getting to this decision was not easy – although my #1 lesson is to Take That Risk, as mentioned, I am quite risk-averse and my husband is even more. The idea of abandoning a steady salary, the promise of unvested stock options, and the practicality of reliable healthcare for my family was daunting to say the least. For my husband, it was a deal-breaker – he was wholly opposed to me making this career change. But after some deliberation (and inspiration – and mediation lol – from my father), we decided to do it.
At the start, friends and family referred client opportunities, and luckily work and revenue started to roll in. But for those of you who may remember 2008, or have read about it, you might know it was not one of our best years in economic history. In fact, by September 2008, Lehman Brothers had declared the largest bankruptcy in U.S. history, and within a few short months, the Great Recession was in full swing. By the start of 2009, as we looked at the revenue forecast of our fledgling new business, we saw one scary number: ZERO. We literally had zero revenue for the foreseeable future. This is the point where my husband said…wait for it…I TOLD YOU SO. 😡
But we were determined; we doubled and tripled down to figure out how we could make our business work. Through pure grit, determination, and a bit of luck, ten years later, we had built a successful, profitable, and growing marketing agency uniquely serving highly technical B2B companies with clients from coast to coast. We boasted tens of thousands of visitors to our website, we achieved top accolades from our software partner HubSpot, and our trusted engineering buyer research was cited across the industry.
Achieving success in the business world is not an easy path, and it's not for the faint of heart, arguably even more for women. But if you expect it to be hard when seemingly insurmountable difficulty arrives, you're not surprised – you expected this. With grit and determination, you will achieve more than you ever dreamed!
EXPECT IT TO BE HARD → IT DRIVES DETERMINATION
‍
3. Fail Forward
Growing up, I played all sports. Every new season meant a new team, uniform, and skills to learn—softball in the spring, tennis and swimming in the summer, soccer in the fall, and skiing and basketball in the winter. As I got older, my love for tennis grew and I focused more time on playing and competing as I grew as a player. While I started to do well in statewide tournaments, I certainly was nowhere close to being collegiately competitive and that was ok because it was never my dream to play beyond high school.

To my surprise, the coach at Boston College where I attended university asked me to try out for the team, and I (naively) accepted. To try and prepare, I devoted that summer to training – on and off the court – and was in the best physical shape of my life, doing well and even winning bigger and bigger tournaments. Unfortunately, while my tennis skills were the best they'd been and my fitness level was superb, this short experience playing in my home state was not enough to prepare me for the mental toughness needed to compete halfway across the country at the college level. On tryout day, my nerves got the better of me, and sadly, throughout tryouts, I played the worse tennis of my life.

I was devastated and ill-prepared. I had never failed at this level before. Ever. I had no idea how to fail. I didn't know that was a thing – that you could actually learn how to move forward – even stronger – through failure. I thought if you failed you were done. In my inexperienced, yet-to-fail 18-year-old brain, I assumed successful people never failed – how could they, after all, they're successful?

While getting cut from the BC Women's tennis team was one of the most devastating experiences of my life, it turned out to be my first lesson in learning how to fail forward. I have had many lessons in failure of all sizes since – even this month! Through failure, I've become stronger, wiser, and more empathetic – with myself in my own failures, to others as I support them through their failures and am able to set more realistic expectations as a C-level leader to boards, investors, and peers.

We are human. We make mistakes. We have great ideas that don't work out as we'd hoped. And sometimes we straight up fail. These failures are (in part) what makes us stronger, wiser and better moms, partners, friends, and leaders going forward.
‍
FAIL FORWARD → IT MAKES US STRONGER AND WISER ON THE OTHER SIDE
‍
4. Say No To Grow
One of the roles I filled as CEO of my marketing agency was the lead saleswoman. This meant I talked regularly to prospective clients who needed marketing help (aka, leads and a pipeline filled with qualified revenue opportunities). Since our primary target audience was engineering businesses, most of my days were filled speaking to highly technical CEOs passionate about client success who had little understanding of how to do marketing efficiently and effectively. Through many conversations, a similar theme surfaced – while they inherently knew their unique experience and competencies, they feared marketing themselves in a differentiated position that would risk turning business away. They wanted all business. And yet, they were calling me because they needed more business. Hmm….maybe this strategy needed review.
Five years in, and many sales conversations later, as I began writing my book, Smart Marketing for Engineers, the title of my first chapter, Say No to Grow, came to me quickly and clearly. I got the chapter title idea following an interview I had with the Wall Street Journal reporter who asked me simply how we not only survived but thrived through the historic economic downturn of the Great Recession (editors of the WSJ named us among the Ten Most Innovative Entrepreneurs in their Small Business Special Report for our success through the downturn). We said 'NO' to businesses that didn't align to our unique competencies so we could say 'YES' to clients that perfectly matched our talents and skills.
‍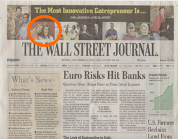 ‍
By saying 'NO' to grow, businesses make clear what they do best and whom they do it for…in marketing, we call this Brand Position. By saying 'no' to opportunities that don't align with your strengths, and instead of saying 'yes' while doubling down on what you're best at, as a business, I suggest you can be more profitable, have more satisfied and loyal customers, as well as build a happier and highly motivated team.
So how does this apply to us as individuals, you might ask? If we are self-aware of our strengths, realistic about our weaknesses, and open to continuous feedback, we can confidently say 'no' to less appealing career opportunities so we're ready to say 'yes' to promising ones. As a result, we maximize our potential and contribute the greatest possible value to our teams. I did Sales at my previous company because that's what I needed to do at the time, but it was not where I added the greatest value, nor was happiest personally. I know now that my God-given strengths in business are communication, marketing, and leadership. I've learned that when I'm put in a role that combines these areas, I'm not only my happiest self, but I'm also able to add the most value to my team.
‍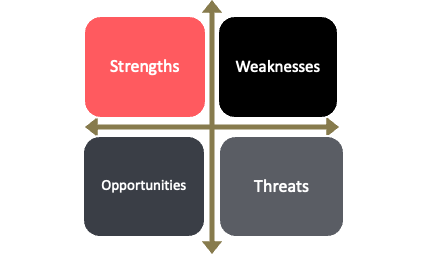 ‍
I challenge you to say 'no' to opportunities that don't align to your strengths and what makes you the happiest, so you keep yourself ready and available to say 'yes' to the roles that allow you to be your best self, and ultimately add the greatest value.
‍
SAY NO TO GROW→ BE SELF-AWARE, AND FOCUS ON YOUR STRENGTHS
‍
5. Get Comfortable Being Uncomfortable
In point #1, I shared how risk makes me uncomfortable. In my experience, most people share this sentiment. When faced with a choice, most of us would prefer the less risky path. However, if you are seeking to grow as a leader, facing risk and discomfort is an unfortunate side effect.

Being a leader is a role wrought with risk. It means making decisions in the midst of uncertainty, pursuing a vision when the path to get there is unclear, and inspiring change and motivating teams in the face of inertia, discontent, and challenge. Being a leader requires trusting your intuition, being brave, and getting comfortable with being uncomfortable.

When leadership opportunities land on your career doorstep, your first reaction may be a feeling of deep discomfort due to perceived risk. Maybe the role doesn't align with your strengths, and as a result, it may be the right thing for you to say 'no', so that you can remain open to the right role that allows you to more effectively grow and contribute (per point #4). On the other hand, if you feel uncomfortable because it's going to stretch you out of your comfort zone, but the role inherently aligns well with your strengths and career aspirations, I'd ask the same question I asked the Arrival team: "If not you, then who?"
‍
When I was a kid, one of my mom's many southern sayings was "Press on, sister!" She usually said this to me when I was not having a good day in sports—my softball team was losing, I was being beat by the player on the other side of the net, etc. It was her simple yet powerful way of reminding me: "Keep your head up, you've got this." When we are challenged to stretch ourselves, it requires bravery, remembering it's ok to fail (point # 3), and acknowledging our weaknesses and self-doubt. In honor of my late mother, ask yourself why not you and "Press on, sister!"
‍
BONUS: Be the Optimist and the Pessimist
I was very fortunate to work for a wise leader early on in my career who had many business mantras, including "always be the optimist and the pessimist." As a business leader, I've found this to be true and effective—being too optimistic can diminish others' confidence in you, and being a pessimist is uninspiring. You have to always see the difficulty in every opportunity, and the opportunity in every difficulty.
‍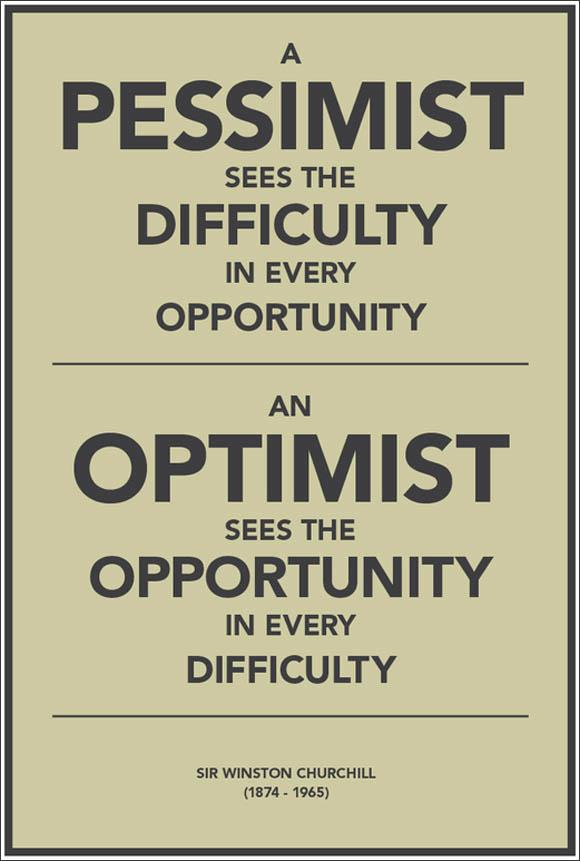 ‍
‍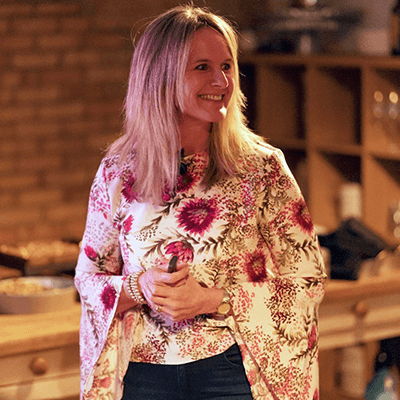 With over 30 years of business leadership experience working with deeply technical organizations large and small and named by The Wall Street Journal editors among the Ten Most Innovative Entrepreneurs in America, Rebecca's passion is leading marketing teams and advising technology executives to realize their vision.
As Chief Marketing Officer of Monolith, Rebecca stewards the company's brand and position, defines commercial processes, and drives pipeline generation. In addition to leading marketing, Geier serves on the leadership team working to scale the company as it becomes a leader in AI for complex product development, where engineering domain experts seek to understand intractable physics that can't be predicted even with the most sophisticated simulation tools or traditional R&D methods.
Prior to co-founding and serving as CEO of TREW Marketing, Rebecca was Director of global corporate communications and investor relations at National Instruments. Rebecca is known for her passion for marketing, technical understanding of complex topics, and her sincere appreciation for the impact of scientists, engineers, and academic professionals on society and our world.
Rebecca and her husband Tim celebrate their 30th wedding anniversary and are the proud parents of daughter Mollie, an ICU nurse, and son Cooper, an Intelligence Officer and 2nd Lieutenant in the US Space Force.‍